OLYMPIACOS WEARS REPLAY JEANS
 
 DELIVERY CEREMONY OF THE OFFICIAL FORMALWEAR OF THE TEAM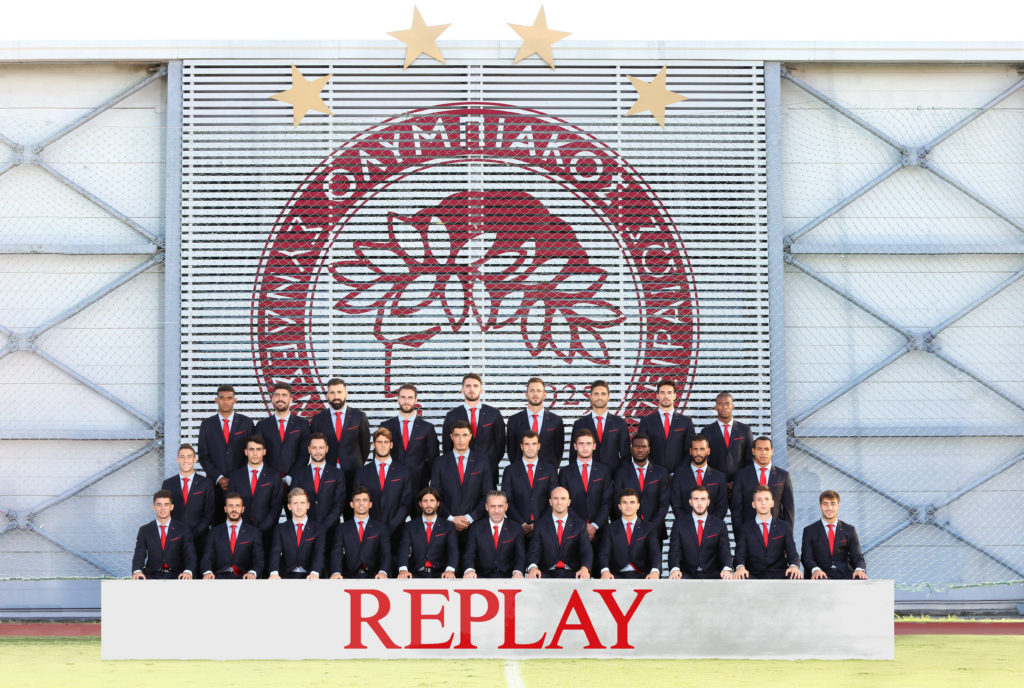 During an exclusive ceremony, held at the official training center of Olympiacos FC, Replay delivered to Olympiacos the Formal Wear for the season 2016-2017. The event was attended by the team players and the coach, as well as, by representatives of Olympiacos club and Replay.
The famous Italian REPLAY brand, worldwide known for top quality denim products and pioneer in smart casual clothing, having already experienced a successful collaboration with the Spanish champions FC Barcelona, dressing the world stars of football like Neymar Jr, Luis Suarez, Lionel Messi is also entitled, starting the current period, the "Official Formal Wear Supplier" of Olympiakos, the top football team and Champions of Greece.
From now on and during the athletic season 2016-17 and 2017 – 18, the players and staff of Olympiacos FC, in their official appearances in Greece and abroad, will wear the new official clothing line signed by Replay, that includes suits, shirts, ties and shoes.
The Commercial Director of REPLAY, in Greece, Mr. Dimitris Tsouvelekakis commented, with regard to this cooperation: "Replay is very pleased for this partnership with Olympiakos. REPLAY and the leading Greek football team of Olympiacos have loyal and dedicated fans. Still, they share the same vision for innovation and are characterized by passion".
The CEO of Olympiacos FC, Mr. John Vrentzos expressed his enthusiasm for the new partnership saying: "REPLAY is an international known brand, which, just like Olympiacos is characterized by its uniqueness and authenticity. REPLAY products are distinguished for their dynamic and youthful design and their style matchess perfectly with the team's spirit. Apart from the same colors, we both also share the same values and the same passion for uniqueness and leadership. "
About REPLAY (FASHION BOX S.P.A.)
Established in 1981, Fashion Box is an Italian denim clothing company enjoying world-class status. Based in Asolo (Treviso), this international leader in the sector creates, promotes and markets casual wear, shoes and accessories for men, women and children under the brands REPLAY, REPLAY&SONS and WE ARE REPLAY. At present Fashion Box products are sold in over 50 countries worldwide, across Europe as well as in the Middle East, Asia, Latin America and Africa. Flanking the company's own chain of 200 stand-alone stores is a wholesale distribution network of 3,000 multibrand sales points. Exports account for approximately 87% of the total sales volume.
About Olympiacos FC
Olympiakos is one of the leading sports clubs in Greece. The Olympiacos football team has won the most titles, than any other team in Greece and has a continuous presence in Europe League, being one of the 30 best teams in Europe.  The club was founded in March 1925 and today numbers 100,000 members. During the years, Olympiacos has succeeded great victories and has won 43 championships, 27 cups and 17 Doubles. The club has also developed a significant and lasting charity program, which reflects the broader philosophy of the team.