REPLAY presents the new fragrance collection REPLAY STONE, in partnership with MAVIVE Venezia.
In partnership with Mavive, Replay has created a new perfume that represents the perfect adaptation of the art of Denim to the world of beauty: REPLAY STONE.
In its two versions, Eau De Toilette for Him and Eau De Toilette for Her, the new twin fragrances take their inspiration from one of the most iconic washing techniques, stone washing. Due to a well – balanced mixture of fabric, water and stones, stone washing makes each pair of jeans unique, on – of – a – kind.
The shape of the Replay Stone bottle is reminiscent of the typical pumice stone, augmented with planar facets and arrays of light. These effects bring to mind the quality of the Replay's textile production and washing techniques and they pasterly suggest te multi-sided and continuous research that informs the very soul of the Brand.
The new  bottles for Him and for Her embody the concepts of innovation and experimentation. The respective fragrances are addressed to 18-30 year old women and men, who are noted for their charisma and charm. Personal care and attention to details are the hallmarks of their daily lives, which they always engage with curiosity and passion. Denim ideally represents them because it goes beyond being merely a practical way to dress – rather, it is an informed way to define oneself, define one's life.
FOR HIM
For Him, a glossy black bottle speaks of personal elegance and character. For Her, a hypnotic tone of violet mirrors the charm of amethyst, one of the most alluring gems frequently use in jewellery.
Two metal elements enrich the overall design: a circular charm featuring the "R" of Replay, and a small plaque set in the glass and inscribed with the name of the fragrance: REPLAY STONE. The alternating glossy and matte finish of the box creates a further three-dimensional and elegant effect, mirroring the facets and light arrays of the bottle.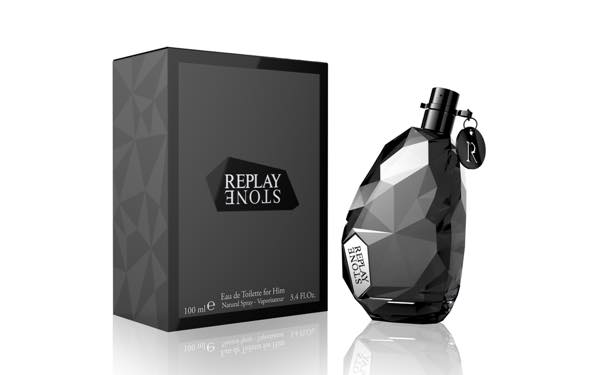 The fragrance for Him is an Eau De Toilette that opens with fresh hues of Italian lemon, subsequently exalted by a spicy accord of elemi, nutmeg, and black pepper. In the heart note, leather and masculine notes are couples to spicy chords of cinnamon and cloves. The composition ends with a base note made of woods and resins, and enriched with touches of amber and musk that create the persistent sillage, the lingering scented trail of this elegant fragrance.
FOR HER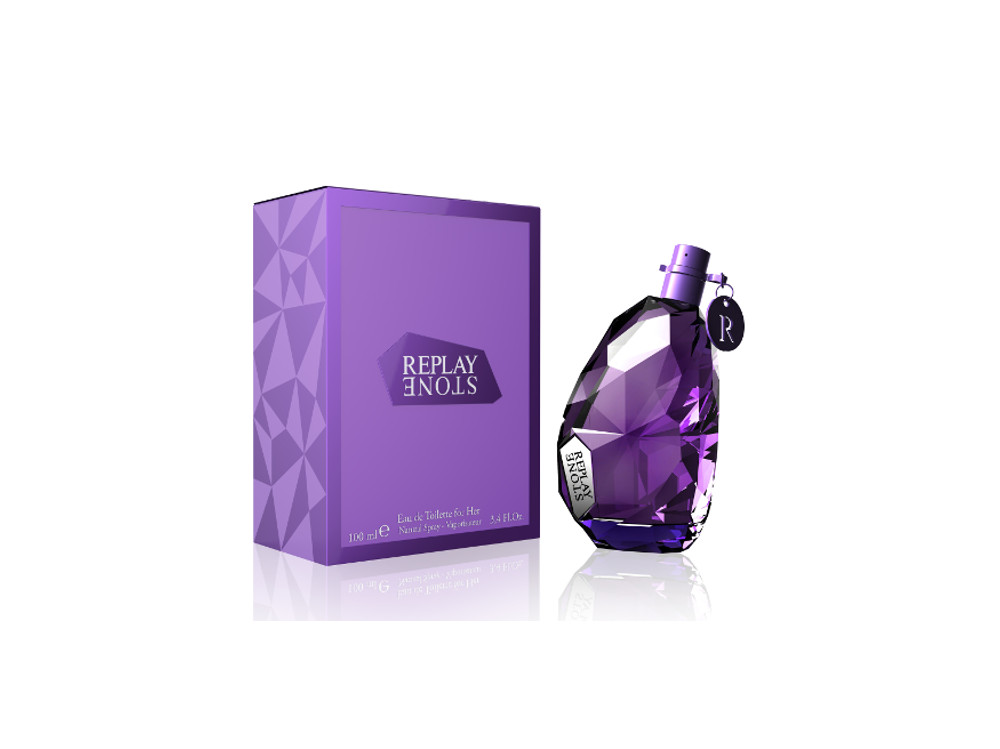 The fragrance for Her is an Eau De toilette that opens with citrus and Mediterranean accords of bergamot, orange, and mandarin, which are further enriched with delicate fruity notes. The heart note bursts forth with the splendor of an opulent orchid, made even gentler by its pairing with the delicate notes of almond blossoms. In the heart note, noble woods are combined with touches of amber, while hints of vanilla are coupled to musky accords. This combination imbues a persistency to the embracing and sensual contrail of fragrance.