Two brands with a shared spirit of vibrant individuality – rebel-at-heart HUGO and Italian premium denim specialist Replay – come together this Fall to launch a co-created capsule collection dedicated to self-expression.
Bringing together a mix of classic and trend-driven denim styles with easy-wear jersey pieces, HUGO | Replay presents clean and simple silhouettes designed to be interpreted by the wearer to reflect their personal style.
Launched as part of the Fall/Winter 2022 season as HUGO strengthens its denim offer throughout its collections, each HUGO | Replay style features a signature red label that brings together the logos of both brands. The capsule is developed in certified organic cotton fabrics throughout.
For him, a classic denim jacket and straight-fit jeans, in a light, medium, or dark wash, are joined by an overshirt and matching jeans that offer a tailoring-meets-workwear aesthetic. Four crew-neck tees deliver four different spins on the bold HUGO | Replay logo, while a garment-dyed indigo tee and matching hoodie complete the line-up.
For her, boy-fit jeans in three washes and a choice of relaxed, drop-shoulder tees are joined by a trend-driven cropped jacket with raw edges and matching balloon-fit jeans, in a nod to the fashion acumen that runs through the collection.
TikTok creators Oluwanifewa Agunbiade (@Itsjustnifee), Louis Powell (@youngmanpowell) and Isla Loba (@isla) star in a playful social-first campaign, shot in London, to mark the launch. Each individual shows how they incorporate the HUGO | Replay collection into their day, putting together a series of different outfits by adding their own accessories, styling pieces, and – of course – attitude.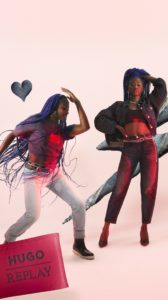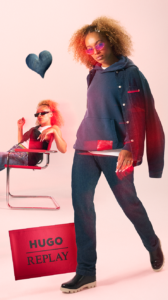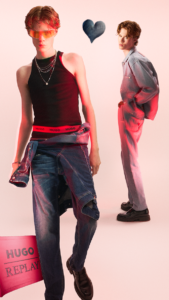 TikTok also offers instant inspo thanks to a branded "Replay Your Day" rewind effect released to mark the launch. Creators will use the effect to create dynamic and immersive content as they switch up the collection from day to night.
As word spreads about the collab, a #HUGOReplay hashtag challenge will give all TikTokers access to the exclusive rewind effect, branded graphics, and audio assets – an invitation to play with filters and transitions to create fresh and fun TikToks that inspire new ways to style denim.
Designed with denim lovers in mind, HUGO | Replay is all about expressing your individual creativity, putting together unique looks where fashion meets fun.
So, how will you wear it?
The HUGO | Replay collection drops  in HUGO and Replay Stores worldwide and online at hugo.com and replayjeans.com.
#HUGOReplay
About Replay and Fashion Box S.p.A.:
Founded in 1981, Fashion Box S.p.A. is a global leader in the denim segment. The Italian group, based in Asolo, in the province of Treviso, creates, promotes and distributes casual wear, accessories and footwear for men, women and children under the brands REPLAY, REPLAY&SONS and WE ARE REPLAY. Fashion Box is currently present throughout Europe, the Middle East, Asia, Latin America and Africa, in a total of over 50 countries. The wholesale distribution network includes 4,000 stores, 124 single-brand stores and 213 corners and shop-in-shops. Exports account for 90% of turnover.
About HUGO and HUGO BOSS:
HUGO, the younger of the HUGO BOSS brands, is the platform for self-expression and authentic dressing. Globally engaged, always curious and uniquely expressive, HUGO creates clothes for those who lead rather than follow to push individuality and boundless styling forward. HUGO BOSS, comprised of its two brands: HUGO and BOSS, is one of the leading companies positioned in the premium segment of the global apparel market. The group offers collections in 128 countries at around 6,800 points of sale and online in 59 countries via hugoboss.com. With approximately 14,000 employees worldwide, the company, based in Metzingen, Germany, posted sales of EUR 2.8 billion in the fiscal year 2021.
#HUGOReplay
REPLAYJEANS.COM
INSTAGRAM: https://www.instagram.com/replaygreece/?hl=el
FACEBOOK: https://www.facebook.com/ReplayGreece
YOUTUBE: https://www.youtube.com/user/fbgreece