Replay, the «Official Supplier of Formalwear» of PAE OLYMPIACOS FC, welcomed the players and team executives at the Replay Store in Golden Hall, where it hosted an event dedicated to the new Fall/Winter Replay Collection.

This gave the opportunity to Mr. Agrafiotis Dimitris, Vice President of OLYMPIACOS FC to express his satisfaction for the new collaboration which started off exceptionally, while he also pointed out his contentment for the new appearance of the team. «I am especially happy that the players, the training team but also the whole administrative and technical staff of Olympiacos FC have a refreshing air in the way they are dressed, under the name of Replay. It's a modern appearance which perfectly matches the team's spirit, dynamism and energy».
Mr. Tsouvelekakis Dimitris, Commercial Director of Replay, congratulated the team for this year's progress at the Greek Championship, for its qualification at the 32 of Europa League, and wished for a successful future. He also pointed out that Replay is proud if this year's collaboration with Olympiacos, since REPLAY and Olymapiacos share the same values: « REPLAY as also the top Greek football team have loyal and devoted fans. Additionally, they share the same vision for the authenticity and forefront and are characterized passion and tension, which, each time, classifies them between the best».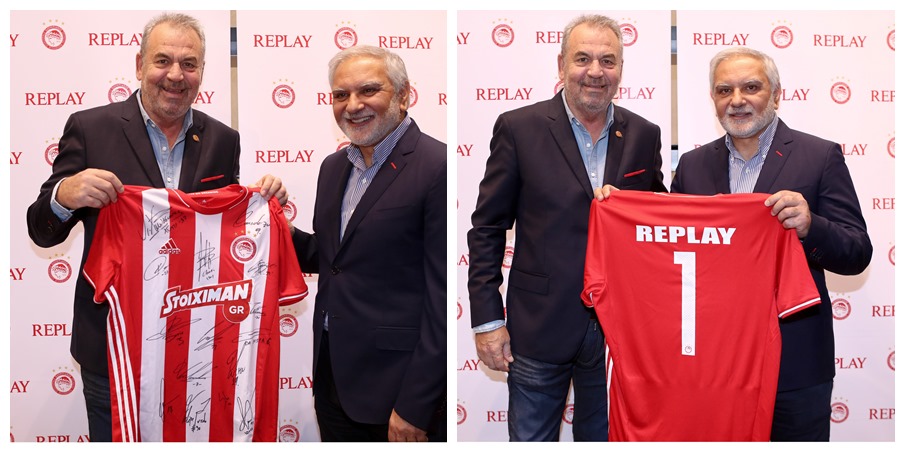 During the event, the players Alberto de la Bella, Panagiotis Retsos, Nicola Leali, Diogo Figueiras, Andre Martins and the team staff had the opportunity to see the new Fall/Winter 2016/2017 REPLAY collection and do their shopping!