ICONIC ITALIAN BRAND REPLAY EMBRACES PARIS AS IT BECOMES THE "OFFICIAL DENIM PARTNER"OF PARIS SAINT-GERMAIN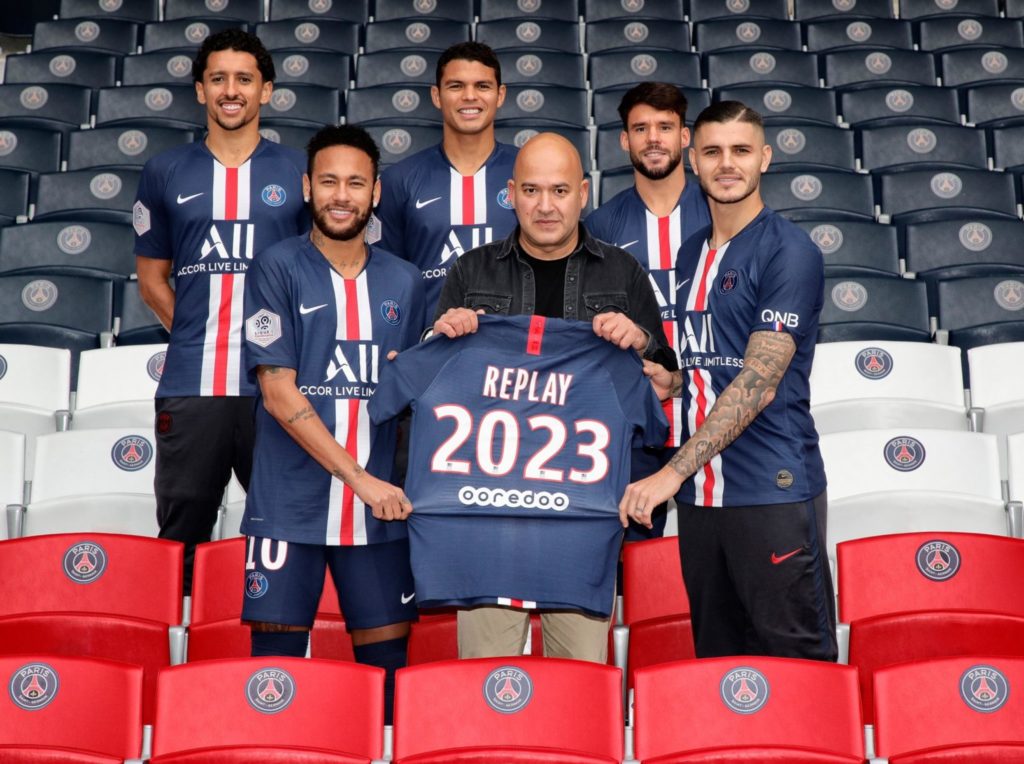 Asolo, 30th October 2019 – Replay's parent company Fashion Box has signed an agreement with internationally-acclaimed football club Paris Saint-Germain to become the Club's "Official Denim Partner" for the next 4 seasons.
In addition to intellectual property, marketing and digital rights, Replay and Paris Saint-Germain will work hand in hand to develop exclusive premium capsule collections, which will be available from 2020 via the official Paris Saint-Germain sales network and through Replay's retail and online channels.
Matteo Sinigaglia, CEO of Fashion Box SpA, said: "In a scenario that sees football as the most loved sport in the world, with over 2.5 billion fans spread across 5 continents, we have actively pursued this partnership which will enable us to strengthen our presence in the football world, which is, like ours, founded on great passion. Paris Saint-Germain is a Parisian team, the winning symbol of a city and a country we feel a great affinity with; it is the fastest growing brand in football and its amazing international reach should boost our global exposure. Given the fantastic collaboration already in place with football icon Neymar Jr., it felt like a logical next step to join forces with a team made up of football superstars and with a first team that includes 10 different nationalities."
Marc Armstrong, Paris Saint-Germain Chief Partnerships Officer, added: "We are delighted to welcome Replay to the Paris Saint-Germain family. Our brands share a common ambition to connect with a young and fashion-conscious audience worldwide while embodying the values of Paris.  In recent years, Paris Saint-Germain has become the epitome of sport and style and we look forward to working closely with Replay to develop creative products and content for our global fan base."
In line with the Club's unique sponsoring approach, the partnership between the two brands will go far beyond traditional marketing rights to involve creative collaborations ranging from digital to retail experiences.
Paris Saint-Germain
Paris Saint-Germain football club was created in 1970. Ever since QSI purchased the club in 2011, Paris Saint-Germain has undergone a transformation to become one of the world's top football clubs and global sports brands. The Club has reconnected with Paris under the philosophy of "one unique city, one unique club".
The Club has won 22 trophies in just eight years, for a total 40 in its history, making it the most successful football club in France. Paris Saint-Germain has attracted many great players including Ronaldinho, Beckham, Ibrahimovic, and currently Neymar, Mbappé, Cavani, Thiago Silva, and more.
The international popularity of the Club never stops growing. It is now the one of the most followed clubs in the world, expanding from zero to a community over 73 million social media followers in just eight years. In 2018, it opened international offices in Doha, New York and Singapore. The Club – which includes men's football, women's football, handball and judo squads – made the ground-breaking move to incorporate an e-sports team in 2016.
Giving back to the community is fundamental to the Club, which has drastically increased the capacity of its Foundation to develop wide-reaching and efficient programmes. Just one of its many projects, the Red & Blue School allows the club to help underprivileged youngsters.