The meeting of  two Italian style icons is the driving  force behind the collaboration between Replay and Superga – two brands that have always put quality and innovation at the forefront of their development.
The result is a design that succeeds in combining  fashion and tradition in a cross-cutting offer that unites heritage and contemporaneity.
Conceived and designed as a small manifesto of the exchange between these two brands, this collaboration manages to create a dialogue between the expertise of Superga, a brand that has pioneered the use of vulcanised soles, and the creative coolness of Replay.
At the core of the collaboration between the two brands is the Superga 2750 model.
Unisex and timeless, an international icon of  Italian lifestyle, the Superga 2750 has been revisited with the use of  573 Bio denim, with which Replay leaves its stylistic mark, narrated through its choice of a high-performance fabric, made of 100% organic cotton.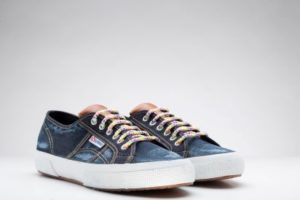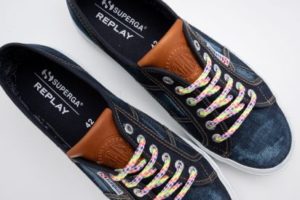 MEN'S & WOMEN'S PROPOSAL
The brands' shared love for detail is evident in the proposal of a shoe that has been re-imagined, in its simplicity, for an urban streetwear style, whilst featuring distressed hints.
This model 's uniqueness is represented by  its ripped and distressed look, and is further embellished with multi-coloured cotton laces in both the darker male version and the lighter female version.
The characterizing, almost signature, elements that characterise this collaboration include: the bleached finish, wear treatments  for a used effect, an embossed leather patch echoing the Replay's trademark, the customised bandana lining coupled with the customised insole and the double back label.