IN AGREEMENT WITH ITALART CO. LAUNCHES A NEW LINE OF NATURAL BODY FRAGRANCES "EARTH MADE"
Fashion Box – REPLAY has signed an agreement with Italart Co., a third-generation company based in Parma, Italy, to create and distribute perfumes and related products. The exclusive 5-year global licence agreement starts with the launch of EARTH MADE, the new natural body fragrance line. The project has drawn inspiration from a Replay apparel capsule collection entirely made from organic fibres and with ZDHC-certified organic mineral pigments, according to the philosophy of reconnection with planet Earth. The Earth Made project perfectly expresses Replay's DNA and strong identity and aligns with Fashion Box's ethical and sustainable approach.
Earth Made includes four natural body fragrances whose names are tributes to the natural colours of the earth – Tuscany Yellow, Antartica Blue, Amazonian Green, Arizona Orange – and create a vibrant palette of essential bottles made from recycled glass. The four fragrances are genderless, 100% vegan, of certified natural origin and come in totally eco-green packaging. The body fragrances are all natural and sustainable, contain Thalassogaia and Phytogaia extracts as well as vegetable-derived alcohols. They ensure a long-lasting and persistent perfuming effect, maximum physical and mental wellbeing and all beneficial effects of natural extracts.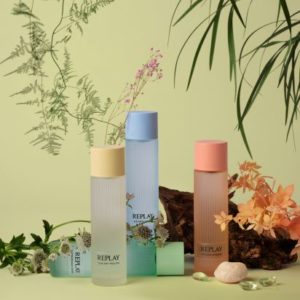 Matteo Sinigaglia, CEO of Fashion Box S.p.A., commented: "Italart is an Italian company that stands out for its intense research activity and rich creativity, as well as for its vertical management of the production chain, and operates through a consolidated and selected international network. Thanks to a vision that is very attentive to the environment, Italart is the right partner to ensure our beauty product lines an international presence in full respect of our brand positioning".
Alberto Tanzi, CEO of Italart, declared: "We are really proud and happy to be able to collaborate with Replay, a leading international brand in the denim segment. With Replay we share dynamism, values and an emic and ethical approach. I am sure Replay will soon become the flagship of our brand portfolio".